CALENDAR OF
EVENTS

Educational Fund and Traveling Fellowships
The College of Surgeons of Malaysia was founded in November 1972 with a membership of twenty- three fellows and Tan Sri Dato' Dr Abdul Majid Ismail as its first President. This significant milestone has played a pivotal role in shaping history of surgery in Malaysia. The primary objective of the College is to maintain and promote the highest standards of surgical practice in the country.
In 1992, fellows of the College felt the need to extend their responsibility in the profession and through a resolution opted to merge with the Academy of Medicine of Malaysia. The merger was formalised on 16th December 1995.The College represents the diverse interest of surgical specialties and actively promotes the art and science of the various surgical disciplines. read more
Complimentary Registration - Annual Scientific Congress 2019 - Bangkok, Thailand
The RACS Annual Scientific Congress 2019 will be held in Bangkok, Thailand on 6th to 10th May 2019. The RACS has offered conference registration to two younger fellows of our College. Forwarded below is the message from RACS. If you are interested to avail of this complimentary registration, please read the instructions carefully and apply to OUR COLLEGE with the completed forms by 10th March 2019.
Letter from RACS | Provisional Programme | Registration Form

22nd Asian Congress of Surgery (incorporating CSAMM ASC 2019)



2-4 Aug 2019 Kuala Lumpur, Malaysia
- website

Royal College of Surgeons of England International Surgical Training Programme (ISTP)
The RCS invites applications across all surgical specialties for UK vacancies opening early 2019.
- read

Press Release - Signing of Memorandum of Understanding (MOU)
The training of Cardiothoracic Surgeons in Malaysia took a giant leap forward with the signing of
a Memorandum of Understanding (MOU) between the Royal College of Surgeons of Edinburgh,
UK, the Academy of Medicine of Malaysia, the College of Surgeons of Hong Kong, and the Joint
Committee of Specialist Training of Singapore, establishing a Quadripartite Exit Examination in
Cardiothoracic Surgery involving the four parties.
- read

CSAMM 2018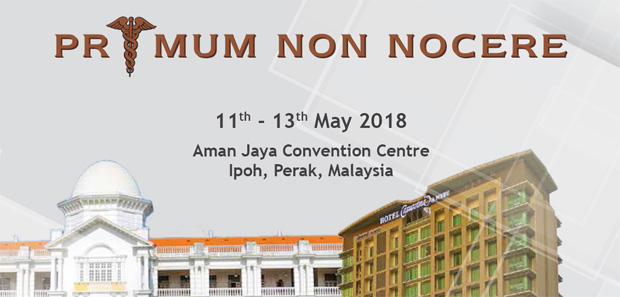 Ipoh, Perak, Malaysia
- flyer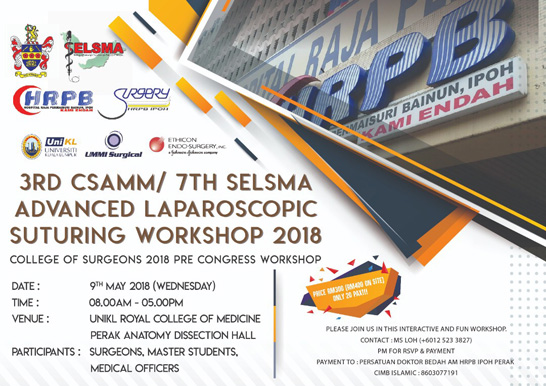 ADVANCED LAPAROSCOPIC SUTURING WORKSHOP 2018
- Announcement - POSTPONED TO 14th MAY 2018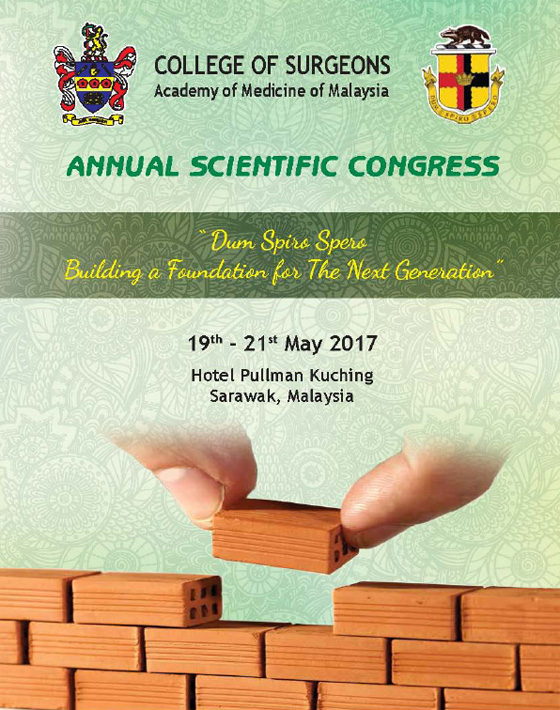 CSAMM 2017
19-21 May 2017 Hotel PULLMAN, KuCHING
Flyer || Website || Photo Gallery



Care of the Critically Ill Surgical Patient (CCrISP®) Course 2018
Click here

RACS Travelling Fellow 2016 - Dr Graeme Campbell
Dr Graeme Campbell visits Kuantan, Temerloh and Kuala Lipis.
Click here to read

Travel Grants to Cairns Australia
Information regarding the release of the General Surgeons Australia Pacific Island & South East Asian Travel Grants for 2015.
Click here to read

A Tribute to a Pioneer in Liver Surgery
Dato' Dr M Balasegaram, often referred to as 'Prof Bala', passed away on 5th May 2014 at the age of 85. A memorial lecture was held at the Lecture Theatre of the state-of-the-art Advanced Surgical Skills Centre, UKM Medical Centre, Kuala Lumpur on 23rd November 2014 to honor his immense contributions to the development of gastrointestinal surgery in the country. A strict disciplinarian with rigorous standards, he groomed many of top surgeons. Dr Balasegaram is best noted for his pioneering work in liver surgery. He researched and added more information to the understanding of the anatomy of the liver, and subsequently simplified liver surgery with his new specially designed liver instruments.
Click here to read

A M Ismail Oration 2014
Delivered by Dr Yeoh Poh Hong at opening ceremony of College of Surgeons ASM in Kuching.
Click here to read



CALENDAR OF EVENTS
2 - 4 Aug 2019
22nd Asian Congress of Surgery (incorporating CSAMM asc 2019)
- website
31 Oct - 1 Nov 2019
7th MALAYSIAN BREAST & ENDOCRINE SURGERY COURSE
- view details | Online Registration
Mar / May / Aug / Dec 2019
Care of the Critically Ill Surgical Patient (CCrISP®) Course 2019
- view details


ISSUE: OCT 2018


CSAMM 2018 SOUVENIR PROGRAMME
CSAMM 2018 ABSTRACT BOOK


CSAMM 2017 SOUVENIR PROGRAMME
CSAMM 2017 ABSTRACT BOOK



CSAMM 2016 SOUVENIR PROGRAMME
CSAMM 2016 ABSTRACT BOOK
Photo Gallery


CSAMM 2015 SOUVENIR PROGRAMME
CSAMM 2015 ABSTRACT BOOK
Photo Gallery



CSAMM 2014 SOUVENIR PROGRAMME
CSAMM 2014 ABSTRACT BOOK
Gallery I || Gallery II



CSAMM 2013 SOUVENIR PROGRAMME
CSAMM 2013 ABSTRACT BOOK
CSAMM 2013 REPORT
Gallery I || Gallery II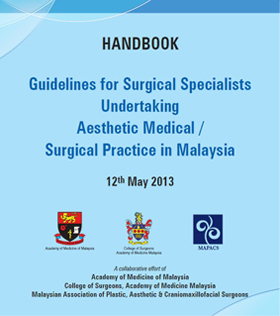 Guidelines for Surgical Specialists Undertaking Aesthetic Medical / Surgical Practice in Malaysia
12 May 2013